Why Cool Roof Tiles
The advantages of WHITE FEET - Cool Roof Tiles
With WHITE FEET-Cool Roof Tiles, your buildings or your home are shielded from harmful UV rays from the sun, thus reducing the heat that is emitted from the rays and making the interior of your building as cool as possible.
---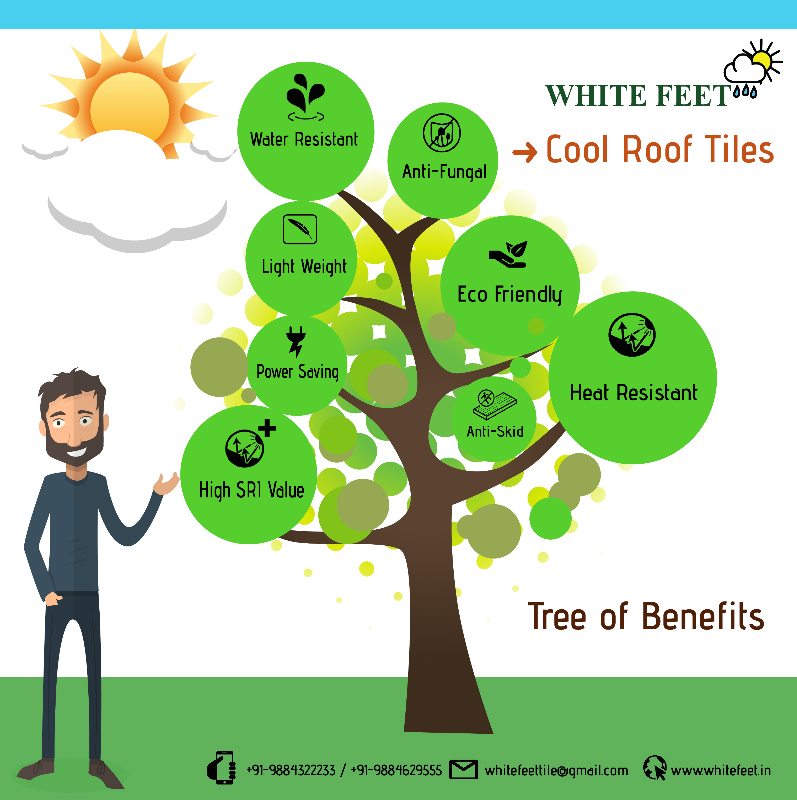 WHITE FEET – Cool Roof Tiles ( Illustration :

Tree of Benefits

)
---
Makes your building cooler than ever before
High Solar Reflective Index(SRI):
WHITE FEET-Cool Roof Tiles have higher Solar Reflective Index (SRI) values, which increase the relative coolness of the building. White Feet-Cool Roof Tiles provide a cool and comfortable living environment.
" Highest SRI value "
The following are some of the benefits of white color in cool roof tiles:
It is generally believed that white is a peaceful color, but it is also a color that has the ability to provide "Solar Resistant Property", a property that is present in the surfaces of WHITE FEET –Cool Roof Tiles. As an example, " Taj Mahal was built out of white marbles and it is still one of the wonders of the world today." In the same way, WHITE FEET- Cool Roof Tiles will have a similar effect on your house or building.
" The Best Solar Reflective Tiles "
To control the temperature of the roof surface, follow these steps:
By using WHITE FEET-Cool Roof Tiles, you can control the temperature of the roof surface, since they are crafted out of natural minerals, thereby reducing the temperature on the roof surface, thus allowing comfort and peace to be enjoyed upstairs.
" Reduce the temperature of the roof surface "
Indian Green Building Council:
Green Building Defined,
As compared to a conventional building, a green building is one that consumes less water, is more energy efficient, conserves natural resources, generates less waste, and provides healthier living spaces for its occupants.
A White Feet-Cool Roof Tile supports Green Building Concepts in many ways, such as conserving natural resources, providing a healthier environment, and providing aesthetic beauty in roofs, as well as conserving natural resources.
" Supports Green Building Concepts "
Fights With Carbon Dioxide and Green House Gases:
White Feet-Cool Roof Tiles, are designed to counteract greenhouse gases such as carbon dioxide (CO2), ozone depletion, global warming, and green house gases (o3). This contributes to building up of pollution in our environment, ozone depletion and global warming. Our cool roof tiles have a wide range of properties that can help solve many of these problems and will help safeguard the environment and nature in a way that no other roofing material can.
" Carbon dioxide (CO2) and Green house gase s(O3 etc..,) can be prevented "
Cool Roof Analysis:
A white roof is 100% heat resistant, while a dark roof is 100% heat tolerant.
As a result of testing the normal roofing structure, there is a temperature of 170 degrees Fahrenheit on the roof structure. Then, after installing Cool Roofs, a significant reduction in roof structure temperature of 90 degrees Fahrenheit was observed, indicating we were able to eradicate about 40% of the surface temperature of the roof. Thus, WHITE FEET- Cool Roof Tiles were approved as one of the best heat resistant tile manufacturers in Chennai based on passing these tests.
" The Best Heat Resistant Tiles "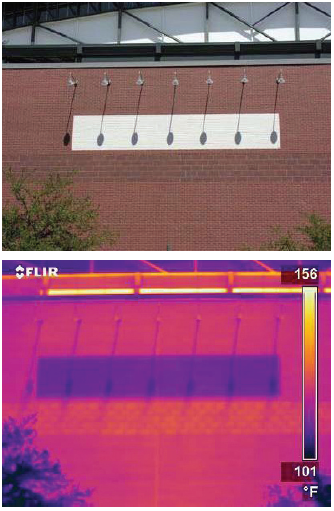 Providing support for energy efficiency inside buildings:
WHITE FEET - Cool Roof Tiles are highly energy efficient in terms of electricity consumption,
When we installed WHITE FEET - Cool Roof Tiles, the temperature inside buildings was reduced, thus reducing the use of air conditioners, fans, and other cooling systems. Therefore, WHTE FEET - Cool Roof Tiles are a low cost, energy-efficient alternative to traditional roofing materials.
" The Low Cost Energy Efficient Cooling System "
Water Resistent Roofing System :
A WHITE FEET-Cool Roof Tile is an efficient and water-resistant roofing material
Because of seasonal heavy rainfall, many buildings are experiencing roof damage, with some falling down, so our cool roof tiles are also designed to protect against water damage.
" The Best Water Resistant Tiles "
Reduces Heat Related Diseases (Hyperthermia) :
With WHITE FEET-Cool Roof Tiles, humans are less likely to suffer from heat-related diseases
Overexposure to heat can result in diseases such as heat stroke, heat exhaustion, heat cramps, heat syncope (fainting), and heat rash. By using our WHITE FEET- Cool Roof Tiles, we are able to reduce these risks to our health.
" Prevents Hyperthermia Like a Boss "
Benefits of WHITE FEET – Cool Roof Tiles
Eco Friendly nature

Cuts Electricty Bill rates

Less Roof Maintenance cost

Improves Beauty of Roofing Structure

Withstand to any climatical Conditions

Good Water Resistent

Anti-skid and Anti- Fungal

Reduces Urban Air Pollution and Smog

Low Cost Energy Efficient

Light weight and Portable

Easy For Laying and establishing

Increases the Roof Life

Reduces temperature Inside the Buildings

Increases Coolness Roof Surface and Inside the Buildings
Applications Of WHITE FEET – Cool Roof Tiles
Multi Flat Apartments

Urban Shopping Malls

Individual Houses

Industrial Houses

Schools

Residential complexes

Independent Villas

Commercial Buildings For reducing cost of air conditioning

Swimming Pool Bays

RCC roof top of buildings

For Cold Storage

Terrace of Commercial buildings

High Heat Generating Factories

Warehouses

Hospitals for Making Patient Comfort

Temples
Tags :
cool roof tiles, heat resistant tiles, Solar Reflective tiles, roof tiles, white tiles, weather tiles, weathering tiles, white roof tiles, thermal tiles, thermal insulation tiles, white cool tiles, non ceramic tiles, concrete white tiles, shell lime tiles , heat reflective tiles, heat proof tiles, cool tiles, heat reducing tiles.